Havoline motor oils have gained a lot of popularity and made a good name in the automobile lubricant industry. Why so? This Havoline motor oil review discusses everything that you need to know about Havoline oils.
About Havoline Motor Oils
Havoline is a synthetic motor oil line from the reputed oil company Chevron. Chevron Corporation is one of the largest energy corporations in America, and its products are well-received worldwide. They are one of the greatest names in the petroleum industry. The company is incorporated with oil or natural gas exploration, refining, production, marketing, etc.
Chevron lubricants have a wide range of automobiles products, including engine protection, fuel system cleaner, automatic transmission fluids, gear oils, power steering fluid, and coolants. They aimed to provide complete protection and care with their products.
Among all these various products, the line that solely consists of motor oils is called Havoline. In this line, there are several categories of motor oils available having different features.
Havoline Motor Oil Variants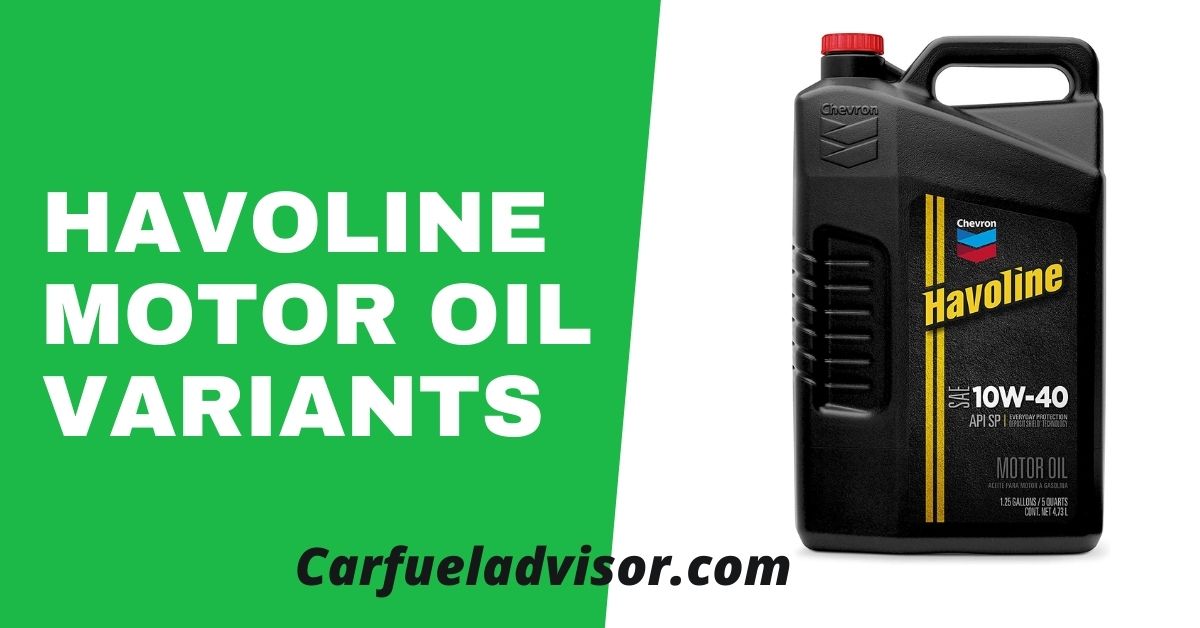 Havoline has a few variants of motor oils. All of them are marketed as synthetic motor oils. With some differences in outcomes and formations, there are six types of motor oils available from Havoline for the time being.
1. Havoline Motor Oil
This is a conventional oil suitable for gasoline engine vehicles, specifically, those with API specified SP or lower. It can also be used for light-duty commercial vehicles like trucks. The oil creates a protective layer that prevents the system from wearing out and maintains cleanliness.
This oil has Deposit Shield Technology that gives protection against deposits, contamination, and sludge. Havoline motor oils are available in SAE 10W-30, 10W-40, 20W-50, 30.
2. Havoline Synthetic Blend Motor Oil
The synthetic blend motor oil from Havoline gives further protection from conventional motor oils. Similar to the Havoline motor oil, the synthetic blend motor oil is also formulated with Deposit Shield Technology. It performs better in colder temperatures compared to conventional oil.
This oil protects the engine or its parts by reducing LSPI (Low-Speed Pre-Ignition) in turbo engines. Havoline Synthetic Blend Motor Oil is suitable for cars, SUVs, light trucks, motorcycles, powerboats, or other mobile equipment with a gasoline engine. This motor oil is only available in SAE 5W-20 and 5W-30.
3. Havoline Synthetic Technology Motor Oil
This is a premium synthetic motor oil that uses the Deposit Shield Technology. Compared to the previous two motor oils, this one contains more elements of cleaning and anti-wear property. It reduces deposit buildup or sludge and is economically superior to conventional oils.
This synthetic motor oil can be used in passenger cars, SUVs, light trucks, turbo engines, etc. Furthermore, it is suitable for any automobile having an engine requiring API SP or lower engine oil. This oil is available in SAE 0W-20 and 5W-30.
4. Havoline High Mileage Synthetic Technology Motor Oil
This oil from Havoline is a premium synthetic motor oil that is specially designed for high-mileage engines. It is formulated with elements for cleaning, anti-wear, and seal conditioning. The oil helps the engine have longevity while providing good performance. It prevents oil consumption and leaks.
Havoline High Mileage Synthetic Technology Motor Oil can be used in both high mileage and newer cars, SUVs, and light truck engines, including high-revving and turbocharged engines.
This motor oil is especially suitable for engines that have already reached the 75000 miles mark, or it can be used for any engine having API SP or lower. The oil is available in SAE 0W-20, 5W-20, 5W-30, 10W-30.
5. Havoline PRO-DS Full Synthetic Motor Oil
This oil is formulated to protect from harsh driving, extreme temperature, or heavy loads. This premium quality synthetic motor oil consists cleaning booster and Deposit Shield Technology. The oil is formulated with full synthetic base oils and antioxidants.
Providing performance and protection is the top priority of this oil. Apart from preventing unwanted deposit buildups, sludge; it also reduces friction and increases fuel efficiency. Most domestic and import passenger cars, SUVs, pickup trucks, and vans can use this motor oil, including new and older vehicles.
This oil, in particular, provides a wide range when it comes to viscosity. The oil is available in SAE 0W-16, 0W-20, 5W-20, 5W-30, 10W-30, 5W-40 and EURO 5W-40.
6. Havoline PRO-DS High Mileage Full Synthetic Motor Oil
Havoline PRO-DS High Mileage Full Synthetic Motor Oil is for vehicles with high mileage engine no matter how old it is. Similar to all the other Havoline synthetic motor oils, this too has Deposit Shield Technology integrated with its formula.
The formulation also contains seal conditioning agents and a proprietary cleaning booster. It helps in reducing friction and ensures smooth performance. It ultimately works on extending the longevity of the engine.
Recommended vehicles for this oil are advanced, high power density, and performance engines with turbochargers. Any passenger car, SUV, van, or light truck with API SP or lower can use this oil. In terms of viscosity, this oil is available in SAE 0W-20, 5W-20, 5W-30.
Havoline Motor Oil Review
Top Pick
Specifications
Conventional or synthetic motor oils from the brand Havoline
There are a total of six categories of motor oils
All oils have Deposit Sheild Technology
Incredibly good for lower temperatures having low viscosity
All oils provide cleaning protection
Prevents deposit or sludge buildup
Provide mitigation against LSPI
All oils ensure longevity for engines
It has fuel economy retention
Provides cleanliness for turbocharge engines
It comes in different sized containers
Reasonably priced
The review section allows you to get to know about Havoline motor oils in detail. After briefly going through the specifications, we have discussed what special features these oils have to offer. Also, the good and bad sides of this oil.
Significant Features
There are many motor oils out there, and you might be wondering what makes Havoline motor oil different. Well, Havoline is constantly improving to ensure optimum protection and performance for automobile engines. We have discussed the key features that make Havoline synthetic motor oils stand out.
Temperature Protection
Havoline motor oils cover a wide range when it comes to viscosity. In general, these oils are pretty good at functioning properly in cold weather, yet they offer few options to choose from. The oils flow smoothly in colder seasons and keep the engine protected from damage. Low viscosity oil means it is less likely to thicken in cold weather.
Most Havoline oils come at a very low viscosity which means they perform well even in freezing weather. The motor oil line has automobile lubricants starting from SAE 0W-16 to 10W-30. Therefore, you can choose from a variety of options depending on your requirement. Take a glance at what Havoline oil offers what viscosity.
Havoline Motor Oil: SAE10W-30, 10W-40, 20W-50, 30
Havoline Synthetic Blend Motor Oil: SAE 5W-20, 5W-30
Havoline Synthetic Technology Motor Oil: SAE 0W-20, 5W-30
Havoline High Mileage Synthetic Technology Motor Oil: SAE 0W-20, 5W-20, 5W-30, 10W-30
Havoline PRO-DS Full Synthetic Motor Oil: SAE 0W-16, 0W-20, 5W-20, 5W-30, 10W-30, 5W-40 and EURO 5W-40
Havoline PRO-DS High Mileage Full Synthetic Motor Oil: SAE 0W-20, 5W-20, 5W-30
Deposit Sheild Technology
All the Havoline motor oils that are available from the brand contain elements that provide cleaning protection. This is due to the Deposit Shield Technology used in the formulation of the oils.
The oils ensure that the engines work smoothly with less friction and do not get sludge or other buildups. Different deposits or buildups can cause massive problems for any vehicle and ruin performance.
Wear Protection
Having seal conditioners, antioxidants, or friction modifiers on the mixture of the motor oils also increases the engine's lifespan. The later four oils of the line are better in protecting the engine, even through harsh driving and weather.
High Mileage
Among the fix available oil types of Havoline, two are solely for high mileage engines. These two options work wonders on older vehicles by drastically improving performance. Havoline high mileage motor oils can be suitable for cars that have already obtained 75000 miles.
Once such a long distance is covered, an engine starts losing its perk, which is when high mileage motor oils come into play.
Both the Havoline high mileage synthetic oils have seal conditioning ingredients that prevent leaking. As a result, it keeps the engine clean and causes less deposit buildup. Keeping an old engine clean is highly important for older engines.
Havoline high mileage oils take care of the special needs of older engines and ensure better performance.
Pros
Provides excellent engine protection and performance
Protects engines with cleaning properties
Protects from sludge, deposit buildup
Protection on turbocharger cleanliness
Contains anti-wear elements
Highly effective for working in colder weather
Temperature protection makes smooth functioning in both low and high temperature 
Good fuel economy retention
Affordable in price
Cons
The packaging could be better
It might leak from the container
Lastly
Havoline produces motor oils, and they do the same things that any motor oil does. From this oil, you will definitely get what you can expect from good motor oils and maybe a bit more – that you might have known by now from this Havoline motor oil review. With Havoline, you get a lot of options for various types of vehicles and at a low price. No wonder this line of motor oils is preferred and suggested by automobile owners.