Knowing what type of oil your car's engine requires is crucial. Your engine needs motor oil to function. By adding oil to your engine, you can improve its performance and prevent future breakdowns.
Because of this, buyers must research which oil will perform effectively for their vehicle before making a purchase. And Royal Purple is one of the top 15W40 complete synthetic oils on the market right now.
Today, we present a Royal Purple 15w40 Synthetic motor oil review, which will be the ultimate guide for you. Here we've discussed a complete overview of this fully synthetic oil along with its specifications as well as its pros & cons.
Let's get started…
Overview of The Royal Purple 15w40 Synthetic Motor Oil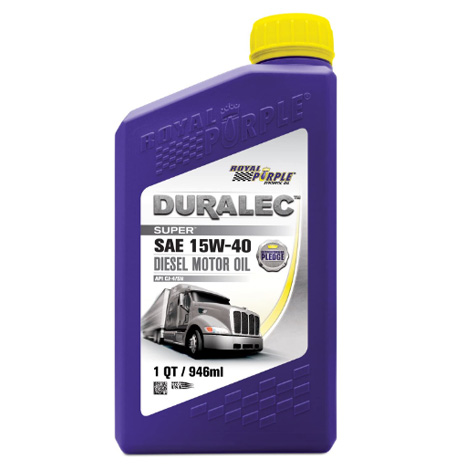 Product Description
The motor oil Royal Purple 15w40 is specially designed to maximize device life, increase drain intervals, and enhance fuel efficiency.
The superior soot resistance enhanced corrosion and rust protection, and prevention of varnish and sludge development are all features of these premium lubricant formulations. They also offer exceptional high-temperature resistance and low-temperature pumpability.
PERFORMANCE ADVANTAGES
• Greater Wear Protection
Advanced additive technology used in Royal Purple 15w40 provides a durable, tenacious layer on all steel surfaces that offers the best engine wear protection.
• Greatly Extends Oil Drain Intervals
Royal Purple 15w40 Motor Oil is indeed very heat resistant and has oxidation stability.
And we all know heat shortens the lifespan of both the oil and the engine by causing oils to thicken, develop lacquer and varnish deposits, and decrease their lubricity.
• Superior Protection
Royal Purple's Cutting-Edge additive technology protects against both routine and severe operations, acting as a preservative oil during shut-down to safeguard initial startup.
• Reduces Exhaust Emissions
As a result of the improved seal that Royal Purple offers between both the piston ring & cylinder wall, blow-by and hazardous emissions are decreased, while combustion efficiency is increased.
• Keeps Engines Clean
The natural solvency of Royal Purple Super Motor Oil removes deposits from previous oils, thus keeping engines clean.
• API Warranty Compliant
The API has granted permission for Royal Purple's SAE-grade motor oils. They work well with both synthetic and other mineral motor oils.
• Switching is Easy
Remove the used oil, switch out the filter, and include Royal Purple 15w40 Motor Oil. When under warranty, stick to the advised drain intervals by the manufacturer.
• Will Not Harm Seals
Similar to mineral engine oils, Royal Purple Motor Oil has great compatibility with seals.
• Environmentally Responsible
Components of Royal Purple Motor Oil are TSCA classified and adhere to EPA, RCA, and OSHA regulations. With the help of this 15W-40 Motor Oil, you can prolong oil drain intervals, stop premature oil changes, use less oil overall, and save energy.
Pros
Better safety gear.
Improved fuel economy.
Improved protection for the pricey catalytic system.
Enhanced compatibility with ethanol-containing fuels.
Superior resistance against corrosion.
Cons
There are no significant drawbacks to using this oil.
Is Royal Purple a Good Brand of Oil?
One feature that differentiates Royal Purple synthetic oils from conventional lubricants is the unique Synerlec additive mix. It is a part of their High-Performance line of motor oil.
In gasoline and diesel automobiles, commercial fleet vehicles, and stationary industrial engines, Royal Purple Motor Oil is advised to be used. Purple HD Motor Oil is high-strength, extended-life engine oil that performs far better than other luxury mineral & synthetic oils.
Royal Purple HD Motor Oil improves horsepower, saves fuel, increases drain intervals, lessens engine wear, and complies with new engine warranty standards. For gasoline engines, SAE 30, SAE 40, and SAE 50 satisfy API Service SJ warranty standards.
FAQs
Is Royal Purple 15w40 full synthetic?
Ans: Yes, this oil is fully synthetic oil.
How long does Royal Purple full synthetic oil last?
Ans: Royal Purple full synthetic oil will last until 12 months or 12,000 miles.
Is Royal Purple good for high-mileage vehicles?
Ans: If your car has 75,000 miles or more, you should choose a premium full synthetic motor oil specially formulated for older vehicles. Over time, seals can shrink and leak; Royal Purple HMX™ High Mileage motor oil reconditions seals, providing a little swell and flexibility to older seals.
How often should I change my oil with Royal Purple?
Ans: If you use Royal Purple full synthetic motor oil, you can skip changing your oil every 12000 miles or 12 months (whichever comes first). When a car or truck hits 200,000 miles, that translates to 16 to 50 fewer oil changes during its lifetime.
Final Notes
The best oil for your car will depend on a variety of factors, including your driving habits and the brand and type of your vehicle. Each of these factors was given priority when we developed this analysis of Royal Purple 15W40 Synthetic Diesel Motor Oil.
So we believe now you have the information you needed to make an informed decision about purchasing Royal Purple.