The sort of oil you use in your go-kart engine greatly affects how long and smoothly it operates. Because using too thick or inappropriate oil in your engine could cause it to freeze. So one of the key elements in the efficient operation and durability of your go-kart is selecting the optimum engine oil.
On the other hand, the type of Go-Kart engine will determine the type and characteristics of the engine oil. To choose the appropriate engine oil for a go-kart, it is crucial to understand the sort of engine it has. For 2-stroke engines, a synthetic oil mix is typically optimal, whereas 4-stroke engines perform best with mineral or fully synthetic oil.
This article is here to assist you as the ultimate guide which contains all the necessary details about the 5 best engine oil for Go Kart engines. So, read on before making a purchase.
Image
Product
Detail
Price

Driven Racing Oil KRT Synthetic 0w-20 Motor Oil

Manufacturer: Driven Racing Oil
Item Weight: 1.78 pounds
Viscosity: 0W-20

Price

Mobil 1 Extended Performance Full Synthetic Motor Oil

Manufacturer: Mobil 1
Item Weight: 9.32 pounds
Viscosity: 5W-30

Price

Spectro Oil L.SP416 Platinum 4 Full Synthetic 10w60

Manufacturer: Spectro Oil
Item Weight: 2 pounds
Viscosity: 10w-60

Price

Motul 8100 X-Power 10W60 100% Synthetic Engine Oil

Manufacturer: Motul
Item Weight: 2.1 pounds
Viscosity: 10w-60

Price

Liqui Moly 2024 Synthoil Race Tech GT1 10W-60 Motor Oil

Manufacturer: Liqui Moly
Item Weight: 9.9 pounds
Viscosity: 10W-60

Price
Reviews of 5 Best Motor Oil for Go Kart
1. Driven Racing Oil KRT Synthetic 0w-20 Motor Oil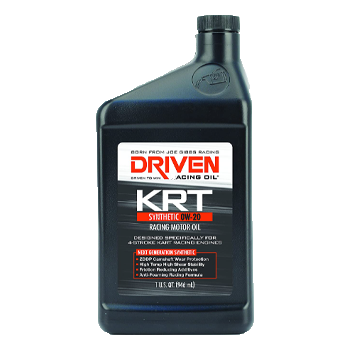 Specifications
Manufacturer: Driven Racing Oil
Item Weight: 1.78 pounds
Viscosity: 0W-20
Synthetic base oils were used in this formulation to boost horsepower & endurance at high temperatures. It uses specialized friction- and wear-reducing additives to combat valve train wear to boost horsepower in Clone engines by up to 4 HP. This motor oil is compatible with both race fuels and pump gas.
The KRT offers dyno-proven power increases, race-proven durability, and compatibility with methanol and high-octane race fuels. This motor oil reduces friction at high piston speeds, resulting in an increase in horsepower output. Extensive dyno testing indicates that these power increases persist for the duration of the oil's service life.
Yet being a low-viscosity oil, its sophisticated synthetic technology provides better density under heavy loads. It fights against oil evaporation, foaming, and viscosity loss, as well as provides race engines with additional durability.
Pros
High temperature, high shear stability with additives that reduce friction.
Racing Formula with Anti-Foam.
Manufactured in the USA.
2. Mobil 1 Extended Performance Full Synthetic Motor Oil
For 4 stroke engines, the synthetic oil formulation Mobil 1 Extended Performance is perfect. In comparison to other engine oils, this innovative fully synthetic engine oil provides superior oxidation plus thermal stability while forming deposits relatively less frequently.
In order to avoid oil breakdown and maintain optimum viscosity, this full-synthetic motor oil 5W-30 controls oxidation for 20,000 miles or more between oil changes. This oil combines an exceptional performance of the engine, protection, and purity with the power of Triple Action Formula.
Complies with ILSAC GF-6 requirements to assist in low-speed pre-ignition (LSPI). Additionally protects against timing chain wear while maintaining your engine clean, thus enhancing fuel efficiency. It is something you won't get from the Driven Racing oil that is listed first.
This oil gives you protection up to 500 degrees Fahrenheit and low-temperature protection for internal engines up to -40 degrees F.
Pros
Keeps oil viscosity steady, promotes extended engine life, and is friendly to engine seals.
Aids in delivering exceptional engine protection, thermal stability, and oxidation resistance.
Outstanding control over oil breakdown.
Cons
Packaging can be an issue (check for leakage before buying).
Double-check the expiration date.
3. Spectro Oil L.SP416 Platinum 4 Full Synthetic 10w60
One of the finest synthetic engine lubricants in the current market is this one from Spectro. Utilizing batch blending and G4 Technology, it significantly improves horsepower plus throttle response. Transmissions gain from quieter, smoother shifting when engines run cooler.
Meets all recognized manufacturer standards and warranty requirements, including A.P.I. SJ/JASO MA/MA2.
Pros
Enhanced horsepower and throttle response through the use of G4 Technology.
Shifting is smoother, quieter, and safe for a wet clutch.
Exceeds A.P.I. SJ/JASO MA/MA2 standard and manufacturer warranty criteria.
4. Motul 8100 X-Power 10W60 100% Synthetic Engine Oil
The Motul 8100 X-Power is high-performance engine oil that is 100% fully synthetic and has an SAE viscosity of 10w60. It is created for use in high-performing gasoline or diesel engines that utilize turbochargers or superchargers.
The 8100 X-Power from Motul offers improved lubrication and deposition resistance, which provides excellent engine protection with high levels of anti-wear protection. It also has superior temperature resistance. Extra oil density contributes to steady oil pressure and less oil burn-off in the fuel tank.
These qualities guarantee your engine's protection for a longer period of time.
Pros
Lubricating technology for high-performance cars that have been tested in competition.
100% synthetic oil for automobiles with forced induction or turbocharged engines.
ACEA A3/B4 and API SN/CF are the standards.
Cons
Packaging could be better.
Hard to find a single-liter bottle.
5. Liqui Moly 2024 Synthoil Race Tech GT1 10W-60 Motor Oil
Liqui Moly Fully synthetic motor oil is developed especially for powerful engines and extreme environments. The broad viscosity range and distinctive formulation offer excellent heat stability for optimal lubrication and minimal engine wear under difficult circumstances.
Among some full-range brands worldwide, Liqui Moly is a German company that sells over 4,000 goods all in one place. They provide the broadest and most comprehensive selection of engine and gearbox oils, gasoline and oil additives, care items, chemical problem-solvers, and service items globally. Always and everywhere in the highest quality.
Pros
Originates from a respected company.
100% synthetic lubricant for automobiles with forced induction or naturally aspirated engines.
Meets API SN/CF, ACEA A3/B4, and A3/B4 requirements.
Cons
Hard to find a single-liter bottle.
Go Kart Engine Oil Type
Engine oil is a crucial yet frequently disregarded element of karting. Many drivers don't know how to properly measure their engine oil, and some people are just unaware of the varieties of go-kart engine oils that are available.
The most crucial kind of engine oils to consider for your go-kart is 2-stroke racing oils.
According to the ratios suggested on the container, which can change depending on the particular oil you're using, you should blend your oils.
There are three primary Go Kart engine oil types available-
Rotax- Fully Synthetic
IAME, X30- Castor Oils (Engines Over 14,000 RPM)
Vortex Mini Rok- Motul Or Castor 927
How To Choose The Best Engine Oil for Go Kart
There are several options for the best oil for go-kart in the market, which can make it difficult to narrow your choices down to the ideal one. When seeking the best oil for a go-kart, there are a few things to keep in mind.
Here are three key points to keep in mind-
Quality
Always select premium or superior-quality engine oil.
However, high-quality engine oil will guard against premature rusting and assist in balancing the heat produced by the engine. In other words, the superior engine oil will guarantee the longevity, safety, and security of the Go-Kart engine.
Right mixing with the correct ratio
As simple as it seems, the right blending and ratio of the fuel with engine oil are essential for the Go-Kart to operate smoothly overall. When mixing, it is advisable to use a designated, clean beaker for measurement. Add the necessary amount of oil to the cup along with some new, clean gasoline. Then properly blend it.
You must mix the exact percentage while blending the fuel with oil. You can use the suggested ratio listed on the oil container to figure out the balance.
Don't go for the cheap one
Using the proper oil for your kart's engine is crucial. The type of oil you use will impact the performance and longevity of your kart. Using low-quality oils may necessitate an expensive repair.
Although there are multiple options open when purchasing motor oil, choosing the least expensive one is something you should avoid doing.
FAQs
Can you use car oil in a go-kart?
Make sure you're not using oils made exclusively for automobiles.
These lubricants lose their capacity to shield your engine from potential harm because they are designed to work at far lower temperatures than those seen in karting engines.
How much oil does a Go Kart take?
Although every engine is unique, the standard measurement for a kart engine is 17 oz. or 0.5 L of oil
How do you drain go-kart engine oil?
After a run, while the kart still is warm, remove the drain bolt found on the bottom of your engine. Underneath the engine, place a draining pan or bucket to gather all the fuel-oil mixture that flows out. To make sure everything comes out, let it rest for a while.
What kind of oil does a go kart take?
A go cart takes 4-Stroke Kart Oil
Final Notes
By this point, you must be clear that finding the proper type of oil for your go-kart requires knowing what kind of engine it has. On the other hand, the functioning of your Go-Kart engine depends on choosing the proper sort of oil and providing it with the right combination. The proper engine oil not only prevents stress and strain but also improves the engine's long-term smooth operation.
We wish you luck as you choose the best engine oil for a go-kart.